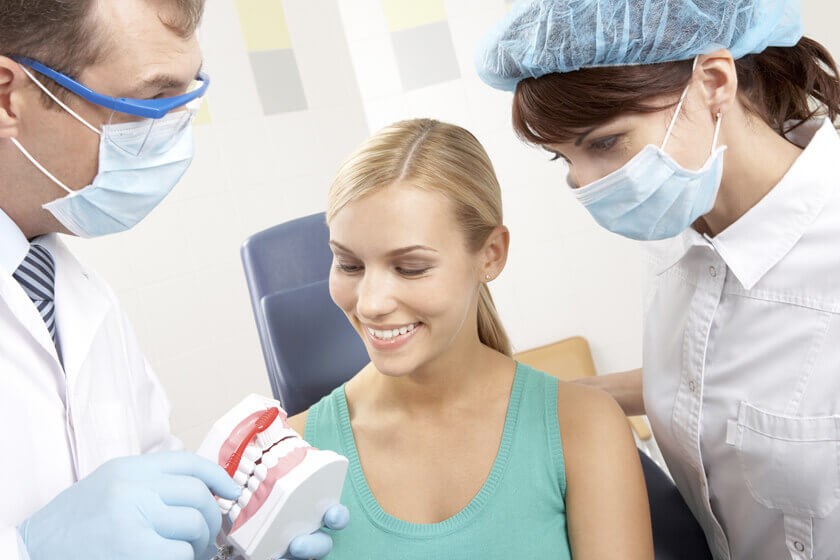 Maintaining a good system that consists of tooth brushing and flossing every morning and evening is critical to ensure that your oral health is in the most ideal standing. But what several people don't realize is that twice-yearly cleanings from a dental professional are equally needed for your oral health. Routine dental cleanings, sometimes known as prophylaxis, are a general dental treatment that removes tartar and polishes the teeth. Having your teeth cleaned on a biannual basis could keep bacteria, buildup, teeth yellowing, and a number of other problems controlled. Eliminating plaque from the mouth might also improve your teeth and gum tissue into their best health, as well as improve your breath.

Going to the dentist at least two times per year for professional cleanings is a vital part of everyone's oral health regimen. Our experienced team of dental practitioners and hygienists employs advanced approaches to perform standard oral care services and better the smiles and lives of Spring, TX people. If you need a biannual teeth cleaning or have separate oral wellness issues, Imperial Oaks Dental Care hopes to be your go-to source for oral treatment. We invite you to browse this online source so you can learn all that you should know when it comes to biannual teeth cleanings and the ways this general dental care service might support your smile, today and far into the future.

WHAT DO REGULAR DENTAL CLEANING SESSIONS CONSIST OF?
A biannual teeth cleaning at Imperial Oaks Dental Care will be modified to suit your unique health requirements. Other preventive oral care procedures can also be offered at a cleaning session to allow you to receive more benefits from your meetings with the dentist. Your other services may involve dental sealants or fluoride gel. Dental cleanings from our talented Spring, TX team are in-depth and designed to allow you to experience your most hygienic smile.

At the beginning of your appointment, we will learn about your medical history
Spring, TX individuals are commonly shocked to learn that their dental health might have an impact on their general physical wellness. Before your professional cleaning, your current health situation, including the medications or supplements that you take, will be carefully evaluated. This will give our staff a greater knowledge of your overall physical health and how it might connect to your oral standing.

From there, someone on our experienced staff will clean and polish your teeth.
Most of your routine cleaning appointment will be spent eliminating plaque and buildup from your enamel. Plaque and buildup create an environment wherein damaging bacteria exist and produce toxins or acids that may ultimately decay your oral structures, like the teeth. The exceptional hygienists at Imperial Oaks Dental Care can delicately remove the plaque and tartar from your enamel to help enhance your oral health and minimize the potential for some conditions, including enamel deterioration and gum disease. Outer stains that have developed on the teeth from dark beverages or other foods could also be buffed away for a lighter and more glowing appeal to your smile.

Fluoride treatments can be accessible to children or adults who are susceptible to tooth decay.
A fluoride treatment is a popular option we offer to enhance the teeth and safeguard against the development of damage. This product is commonly recommended for kids, but it might equally aid teens and adults who have signs of early tooth decay, a tendency to develop cavities, vulnerable tooth root surfaces, and different areas of worry. To help individuals who are at a greater risk of developing tooth decay, fluoride could be layered on the enamel toward the last part of their teeth cleaning visit.

WHEN SHOULD YOU RECEIVE A PROFESSIONAL TEETH CLEANING?
Professional teeth cleanings are generally suggested at least twice annually. However, people who have gum disease or different dental concerns may need cleanings more frequently. Our friendly Spring, TX professionals will assess your concerns and help you determine the teeth cleaning routine that's right to ensure your teeth and gumline are in the ideal condition.

CHOOSE A DENTIST WHO'S COMMITTED TO THE HEALTH OF YOUR MOUTH
A smile is nearly always one of a person's best features. Getting regular teeth cleanings is critical to be sure that your smile is glowing, aesthetically appealing, and in excellent shape. To make this possible, it's crucial that you look for a dental practitioner who is just as committed to the wellness of your smile. Our staff of dental practitioners at Imperial Oaks Dental Care is passionate about elevating the lives of our wonderful patients by using a one-on-one approach to dental treatment. We encourage local individuals to call our Spring, TX practice at your earliest convenience to schedule a visit for a biannual teeth cleaning.