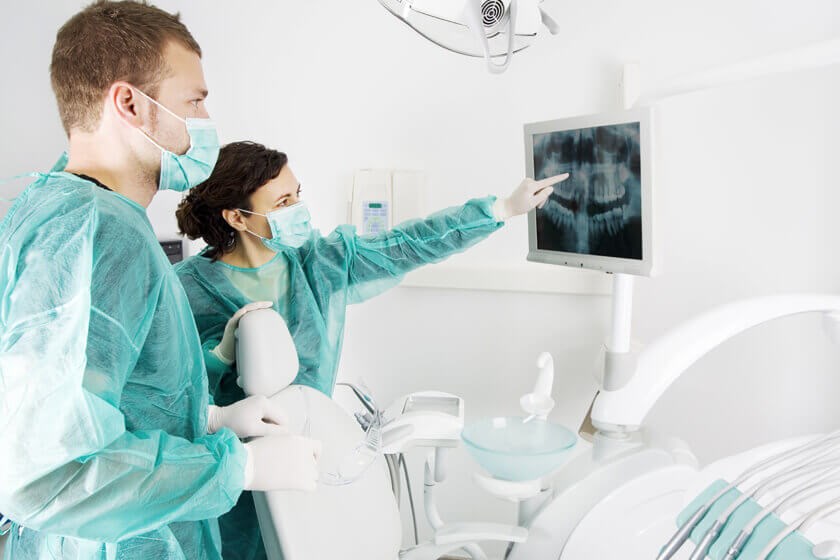 Individuals who have lost one or two teeth are in good company: A number of people in Spring, TX may end up struggling with dental health issues that can cause tooth loss. In fact, an estimated 178 million women and men in this country have experienced the loss of a single tooth or many. Missing as few as one of your adult teeth results in adverse effects that typically harm your oral wellness and emotional security. When teeth are removed because of harm from advanced cavities, bone weakening, or other dental problems, filling the empty space right away offers the best-case situation regarding your teeth and oral health. Implants are, at this moment, the favored method for substituting adult teeth because of their reliable health and cosmetic benefits. The dental professionals at Imperial Oaks Dental Care have years of advanced expertise in dental implant solutions. Our dentists can help you determine the ideal tooth replacement option for your individual concerns and visual wishes and if implants are the best choice for your oral wellness.
THE MOST SOUGHT-AFTER SOLUTION FOR REPLACING TEETH
Reputed for their extraordinarily realistic structure, dental implants are not like any other tooth restoration options offered. Implant dentistry provides a wide scope of tooth replacement solutions and could treat any number of teeth, from a single missing tooth to a whole mouthful. People who are aiming to change from worn down tooth replacements to a more permanent solution could be qualified candidates for this preferred treatment. Several people have been selecting implant-supported restorations to bring functional capabilities, health, and aesthetic appeal back to their smiles. Implants appear, feel, and act very much like actual teeth. With traits that closely emulate those of natural teeth, it's no wonder that dental implants are considered the best option in tooth replacement.
AN INSIDE LOOK AT HOW DENTAL IMPLANTS WORK
The specific design of the implants mirrors the shape of actual teeth. Dental implants utilize medical-grade titanium posts that act as an imitation tooth root, as well as natural-looking crowns that return adequate form and function to the smile after the loss of teeth. Over a time-frame of 3 – 6 months, implants go through a fusion process where they bond with the bone mass and become a fixed component of the mouth. Implants are incorporated within the bone to take the place of tooth roots for increased stability and exceptional support.
DENTAL IMPLANTS GIVE LONG-LASTING OUTCOMES
When it comes to to replacing missing teeth, many men and women look for an answer that provides long-term results. Implant-based solutions continue to be the sole tooth replacement option that bonds with the jawbone, emulating real tooth roots. The integration produces a reliable foundation that allows dental crowns to remain in the mouth. Implants are cannot decay and almost never need to be replaced. Therefore, a person could benefit from a full smile for the long run. If done by a highly skilled dentist who uses contemporary techniques, this operation has an impressive rate of success.
RECEIVE OUTSTANDING COSMETIC BENEFITS
An important trait of dental implants is the life-like aesthetic qualities this tooth substitution option provides to individuals. Our staff at Imperial Oaks Dental Care designs customized fixed solutions that vary in shape, size, and color to mix naturally with nearby teeth. Implants resemble and seem like actual teeth. Because of this, they're nearly indistinguishable from real ones. Fixed restorations can also help men and women keep a natural-looking face shape and defend against the facial sagging that commonly forms when teeth are absent. Individual dental implants that use crowns restore single missing teeth. Meanwhile, fixed bridges and partial or full dentures are used to overcome the loss of an entire arch of teeth. In fact, people should know that even a whole upper or lower region of lost teeth may be efficiently replaced with a beautiful, full-arch denture.
FIXED RESTORATIONS MIGHT IMPROVE YOUR QUALITY OF LIFE
Selecting dental implants as an answer for tooth replacement can produce a number of enhancements to general lifestyle, most notably for people who have been suffering from missing teeth or have had decaying teeth for a while. Since the metal pieces are positioned securely within the jawbone, dental implants can achieve an impressively stable biting power. Implants cannot change placement, rock, make noise, or slip: They also don't need sticky substances to stay in position. Because implants are kept in their position with a reliable metal post within the bone, these restorations can allow individuals to bite, eat, and speak comfortably. Men and women who go with this option could have their favorite meals and smile with a new feeling of confidence and not have to be concerned with the condition of their overall health.
COULD YOU BE A CANDIDATE FOR DENTAL IMPLANTS?
Implants are a great service for people wanting to gain back their smile, lifestyle, and oral health after the absence of adult teeth. These restorations are custom-crafted to reestablish the beauty and strength of your teeth. Though this option is viable for a number of patients, dental implants always call for enough jawbone strength and healthy gum tissue to be successful. In the event that jawbone regression and other issues are keeping you from being thought of as an ideal candidate for fixed implant restorations, our team could suggest advanced procedures to improve the quality of your dental/oral health and set up an environment that lends itself to favorable outcomes.
If your general wellness has been harmed by missing teeth, dental implants could be a reliable treatment for tooth restoration. The team at Imperial Oaks Dental Care is able to assess your individual problems and assist you in determining if dental implants might be the answer to your oral health. We invite you to contact our Spring, TX practice as soon as possible so you can begin the path toward benefitting from a better life.